Dental care is often overlooked and it shouldn't be. Poor oral hygiene can lead to dental cavities, gum disease, and in some cases, can even be linked to heart disease, cancer, and diabetes. Gum disease and tooth decay are two main dental problems you may experience without the right dental care.
If left untreated, a toothache can cause pain, infection, and tooth loss. As a dental clinic in Cebu that cares for you and your well-being, we want to help you care for those pearly whites. That's why we strive to offer modern, affordable and quality dental care just for you.
There are lots of other benefits of choosing The Hospital at Maayo as your healthcare provider but first, you should know what happens during a visit with your dentist.
What happens during a regular dental visit?
As stated earlier, dental care is absolutely vital and should be treated with just as much care as you do with other parts of your body.
After all, the last thing you want is to take off your mask at the end of the day and not be able to stand the stench coming out of your mouth. But joking aside, going to the dentist is one of the easiest medical checkups you'll do all year.
A routine dental visit consists of a dental exam where the dentist cleans your teeth, checks for cavities, and thoroughly inspects every tooth – making sure there are no gaps between your teeth and gums. Once this is complete, the dentist will talk to you about your dental care and what next steps need to be taken.
Your dentist may ask you to return for regular cleaning, which you mustn't skip out on. Other times, you may need to have an x-ray if you feel pain around the teeth or if the dentist believes you need further examination to detect an underlying problem. These are some of the reasons you need a reliable dental clinic in Cebu. But if you are still not convinced, the following reasons should steer you in the right direction.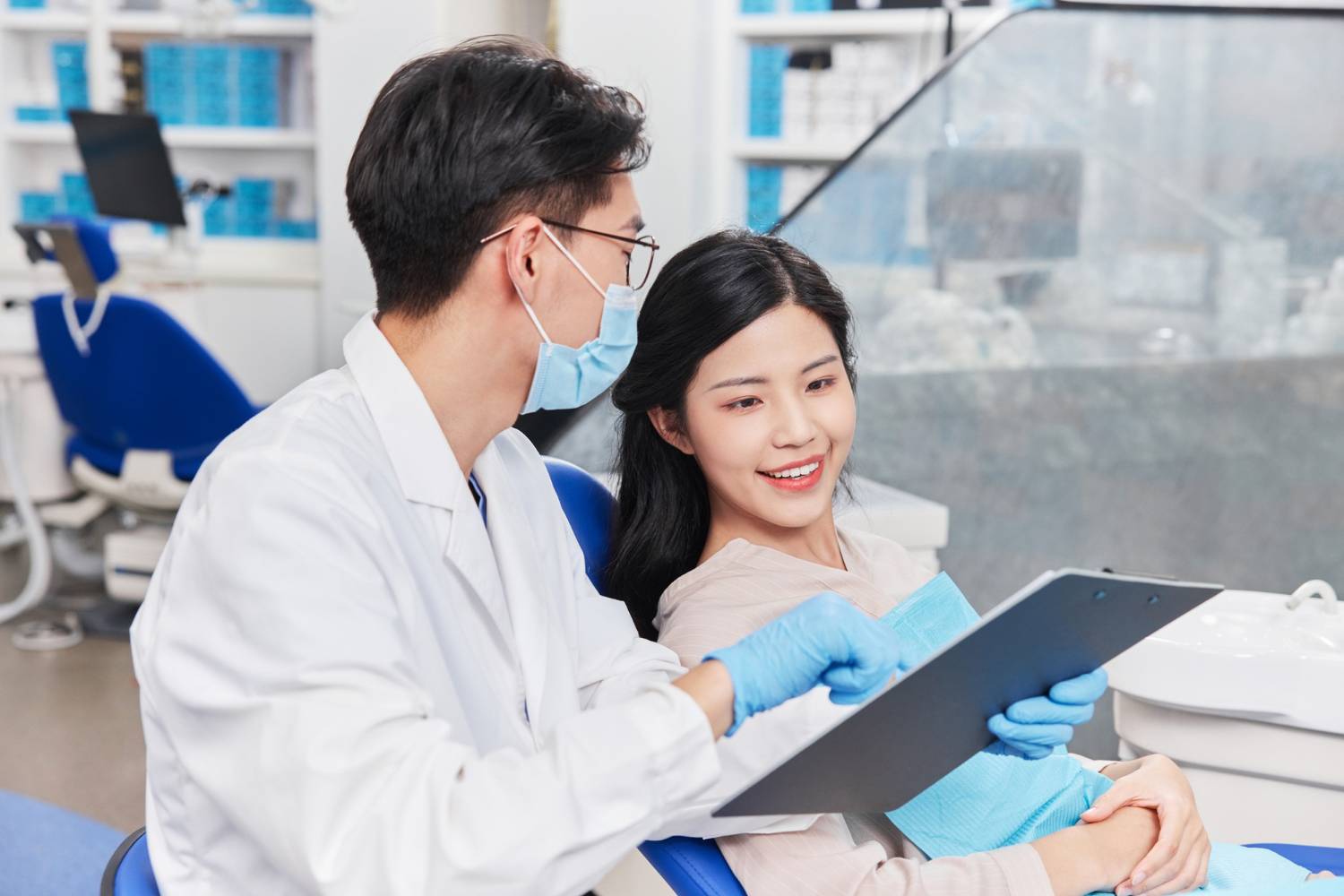 7 benefits of having a reliable go-to dental clinic in Cebu
Flossing, brushing your teeth and using mouthwash goes a long way in ensuring your mouth is in good condition. But it doesn't end there. Oral hygiene is an everyday task. Sometimes plaque buildup can cause gum ache. Likewise, the foods you eat can be detrimental to the colour and health of your teeth, and play a role in gum disease and many other factors.
Therefore, it is important that you get occasional dental care every 6 months as recommended by dentists. And choosing the right dental clinic is equally as important, because a great dentist doctor will ensure you get the best care possible. So what are the benefits of having a reliable dental clinic or dentist?
1. Education on proper dental hygiene
Did you know that flossing your teeth is an essential part of your dental care routine? So many think brushing is all that's needed and this couldn't be farther from the truth. Some of the benefits of flossing include reducing bad breath, preventing your gum from bleeding, and helping to prevent tooth decay.
Furthermore, medical-dental research has shown that tongue cleaning can drastically reduce bad breath when done with a tongue scraper. Yet, it is another important thing many do not do. Your toothbrush is for your teeth, and while it can clean the tongue, it does not do the job completely. Having a dedicated dental clinic will give you access to such information that you weren't previously privy to, allowing you to make better decisions and take care of your oral health.
2. Preventative care & early detection
Prevention will always be the best cure. And with the Dental Clinic in The Hospital at Maayo, you have access to dentists that have decades of experience in oral health and hygiene. The dentists at The Hospital at Maayo have your best interests in mind, hence you will be given the best care and advice on lifestyle changes you can make to improve your oral health.
Wouldn't you like to be proactive rather than reactive for a change? By having a dedicated dental clinic, you will be kept abreast of your oral health and potential problems will be detected early and taken care of.
3. Improved self-esteem
If you have ever gotten yourself a new piece of clothing you've always wanted, you will understand what type of confidence that brings. When you don't feel good about your teeth, it creates a cloud above you that makes you less confident and enthusiastic about meeting others.
Getting gum and dental care from your dentist will ensure your teeth and more are well taken care of. Additionally, you will feel better and that can equally affect your mental and emotional well-being. An all-around improvement.
4. Help with other related health issues
As mentioned earlier, poor dental care can affect other parts of your body. Did you know that having certain dental issues can lead to cardiovascular issues?
Though we have premium cardiovascular services, you should know that bacteria buildup in your mouth can adversely affect your heart and put you at risk for strokes, heart attacks, and heart failure. Your overall immune system will fare better when it does not have to work overtime dealing with potential dental threats.
By getting a regular dental checkup with the dentists at The Hospital at Maayo, you can alleviate the intensity of the work being done by your immune system allowing it to focus on other parts of your body.
5. Reduce inflammation
Gingivitis is a gum disease caused by bacterial infection of the gums and when left untreated, this can cause tooth loss. This can be caused by smoking or vaping, poor oral habits, and not flossing.
Genetics also play a huge role. So, if you notice signs such as swollen gums, persistent bad breath, and painful chewing, then it is time to visit your dentist.
The good news is gingivatis can be prevented by regular dental visits every 3-6 months to have your teeth cleaned. Practising proper oral hygiene like proper brushing twice a day, flossing to remove plaque buildup, and eating the right foods like nuts, fatty fish, whole grains, milk, fruits and fresh vegetables will also help.
6. Detect oral cancer
Regular dental exams help detect oral cancer. Oral cancer appears around the mouth like your lips, gums, tongue, the inner lining of your cheeks, floor, and roof of the mouth. Oral cancer is more conspicuous than other oral diseases, making it imperative that you have a designated dentist or dental clinic to visit and have it treated right away. Signs and symptoms include lip or mouth sore, mouth and ear pain, unexplained bleeding in the mouth, and many others.
Oral cancer can be caused by a lack of proper oral hygiene and of course, not having a regular dental care checkup. In most cases, the only way to find out what you have is oral cancer and not an injury is through your dentist performing a comprehensive dental examination.
7. Save money
When all is said and done, treatment is more expensive and in most cases, more excruciating than prevention. By visiting your dentist regularly, you are essentially giving yourself the best possible chance and opportunity to avoid oral cancer, inflammation, and other oral diseases.
There are many reasons to love the Hospital at Maayo and one of them is the presence of extraordinary physicians and medical experts that will go above and beyond to give you the best medical care.

Book a dental appointment at The Hospital at Maayo!
Neglecting your oral health is unwise and can lead to many other health risks that you may not be aware of. Practising proper oral hygiene is one way to guarantee this doesn't happen, but the most important thing you need to do is get in touch with a dedicated dental clinic in Cebu. There are so many advantages to doing this and by choosing The Hospital at Maayo, you get a dental clinic with great technology, affordable prices, exceptional patient care, and outstanding medical services in Cebu.
If you experience any pain in your mouth or bad breath or if you would like to speak with the best medical practitioners in Cebu, The Hospital at Maayo has what you need. Please don't hesitate to check our services and set an appointment today.